The AgriBusiness Global Sourcing Network is the premier resource for buyers and sellers of crop protection products. The Network is a dedicated business tool for the crop protection market, featuring many product types such as technical-grade and formulated pesticides and biopesticides. It is also the only search tool in the market that allows buyers to search by specific formulations.
On the Sourcing Network you can:
Search more than 6,000 products and filter results by supplier region to find the specific products you need.
Search more than 600 suppliers, view company information, and browse their product portfolios.
Connect with companies around the world on your specific product needs, request quotes or other information.
Research full chemical information using the Crop Protection Database, the online version of the Crop Protection Handbook.
Send an e-mail featuring exclusively your company and product offerings to over 12,000 agribusiness professionals.
Update your company's profile with Premium Supplier features such as detailed company information, featured product lines, and relevant export information.
Keep your product portfolio up to date – list new products and update your product portfolio as often as you like.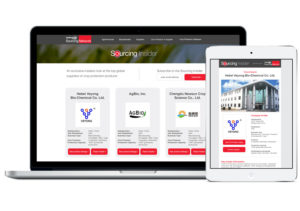 Promote Your Company with a Sourcing Insider
The quickest, most cost effective way to generate quality leads is here! Provide Trade Summit delegates with the key information they need to schedule a meeting with you today – directly to their inbox.
Read more
Become a Premium Supplier
Maximize your presence and lead generation capabilities, stand out in the crowd with the Premium Supplier badge! Promote your company and products on the Sourcing Network with Premium Supplier features. Contact EJDavis@MeisterMedia.com to get started. Ask about discounts for Trade Summit exhibitors!